By senzeal-auto.com |
16
December 2019 |
0
Comments
Car Number Plates Explained
Car Number Plates Explained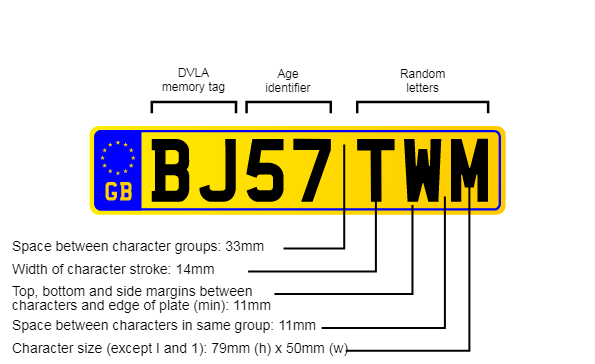 As the new 20-plate comes in to replace the current 69-plate on 1 March 2020, we'd explain the confusion around the current car number plate system – as well as the old – and how you can quickly calculate the age of your car.

The current number plate system
The current system was introduced in 2001, with plates changing twice annually – on the first day of March, and then again on the first day of September. They're made up of three parts, as follows:
Current Example: YY19 JCT

1. The first two letters of your car number plate represent where it was registered. The first letter is to represent the region and second for the local DVLA office i.e. Yorkshire and York.
2. The two numbers following this are an age identifier, changed every 6 months at the beginning of March and September. March represents the year and September the year plus 50 i.e. March 2019 = 19 and September 2019 = 69.
3. The last three letters are chosen randomly and provide the vehicle with a unique identity.
This system is expected to run until 2051.

What was the old number plate system?
The old 'prefix' number plate system began in August 1983 as a once-annual plate change. In 1999, this was updated every six months which then continued as the new system came into action in 2001.
Prefix Example: A678 WRL

1. The first letter shown was the age identifier and represented the year the car was registered i.e. 'A' = 1983.
2. The three numbers following were chosen randomly.
3. Two of the final three letters represented the area of the registration of the vehicle, while the other was a randomly chosen letter.

Prior to this, there was a 'suffix' number plate system from 1963-1983, which worked in a similar way to the 'prefix' system – the letter which identified the year [in this case 'A'] was at the end of the number plate, rather than at the beginning. The registration year first ran from 1 January to 31 December up until 1967 when it was moved to 1 August.
How can I calculate the age of my car?
The table below shows the full list of number plate years and their age identifier so you can calculate the age of your car:
Suffix system
1963-1983
Prefix system
1983-2001
Current system
2001-present
1963 A
1983 Y/A
2001 X/Y/51
1964 B
1984 A/B
2002 02/52
1965 C
1985 B/C
2003 03/53
1966 D
1986 C/D
2004 04/54
1967 E/F
1987 D/E
2005 05/55
1968 F/G
1988 E/F
2006 06/56
1969 G/H
1989 F/G
2007 07/57
1970 H/J
1990 G/H
2008 08/58
1971 J/K
1991 H/J
2009 09/59
1972 K/L
1992 J/K
2010 10/60
1973 L/M
1993 K/L
2011 11/61
1974 M/N
1994 L/M
2012 12/62
1975 N/P
1995 M/N
2013 13/63
1976 P/R
1996 N/P
2014 14/64
1977 R/S
1997 P/R
2015 15/65
1978 S/T
1998 R/S
2016 16/66
1979 T/V
1999 S/T/V
2017 17/67
1980 V/W
2000 V/W/X
2018 18/68
1981 W/X
2001 X/Y/51
2019 19/69
1982 X/Y
2020 20/70
1983 Y/A
2021 21/71
Go to the following and seek more Car Interior Accessories for your car:
https://senzeal-auto.com/c/interior-accessories-0372
Leave a Reply
Your email address will not be published.Required fields are marked. *