By senzeal-auto.com |
28
September 2019 |
0
Comments
How to Resolve Entune System Freezing, Crashing, and/or Rebooting?
How to Resolve Entune System Freezing, Crashing, and / or Rebooting?
Some drivers reports problems with the Entune infotainment system in the 2014-2017 Toyota Highlander. In one case, it seems to freeze, at least temporarily, on startup. In the other case, it completely crashes (freeze or reboot) when the owner's iPod is plugged in.

Regarding the freezing problem, Richard wrote:
"The multimedia system in my 2015 Highlander XLE often freezes when first starting out. I will start the Highlander and give a series of instructions and nothing happens — e.g., navigation, audio, phone instructions. A few minutes down the road, the computer wakes up and starts executing the commands in the order I entered them.

I called the dealer and was told that they were unaware of similar issues. And they cannot fix a computer that will be working by the time I get there. I have spent 30 years in the computer field, and I know a problem when I see one. When you add up the screen glare problem, the instability of the Entune app and problems like I have experienced, the electronics fall short in the value area."




Regarding the crashing, Gordon wrote:
"I've had a major problem with the audio head unit crashing (freeze and/or complete reboot while driving) when my iPod classic is plugged in. I don't have to be using it, just have it connected. If you notice a freeze (in the navigation map) and are quick about disconnecting the iPod, the system can recover without a crash.

This happens every day, often several times a day. This an iPod Classic with a 160GB drive in a 2014 Highlander Limited. Is anyone else seeing this? Besides this crashing problem between the iPod and the navigation system, everything else is great.

Oh, except that I have the wrinkles in the leather, too."

What about you? Have you had any problems with the Entune audio (infotainment/navigation) system in your Highlander?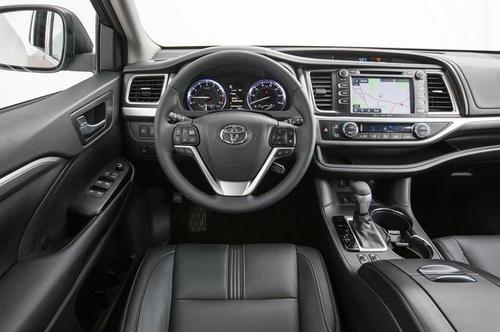 Well, when you had experienced such a problem, how to deal with that?

As for handling the freezes:
1. You can reset the system by pressing and holding the power/volume knob for a few seconds until it powers down and reboots. From there, everything has worked okay, though I know a few people have said that they have to turn off and restart the car to get the Entune system working again.

2. Update Type – Operating System
Your Toyota Vehicle has an available multimedia software update (Version 0101D7 & 010157).
This update is designed to improve the performance of your multimedia system. Updates include the following:
-Intermittent rebooting
-Intermittent display freezing
-"Low Fuel" pop-up message

Go to the following and input your Toyota model, year and if you have navigation or not: https://securedp.toyota.com/download-app/downloads
Leave a Reply
Your email address will not be published.Required fields are marked. *